Overview
1. Automation Risk
2. User Poll
3. Growth
4. Wages
5. Volume
Decription
Resources
Comments
Precision Agriculture Technicians
AUTOMATION RISK
POLLING
There hasn't been enough votes on this occupation yet
WAGES
$41,760
or $20.08 per hour
Employment data isn't available specifically for this occupation from the Bureau of Labor Statistics, so we are using the data from Agricultural Technicians.
SUMMARY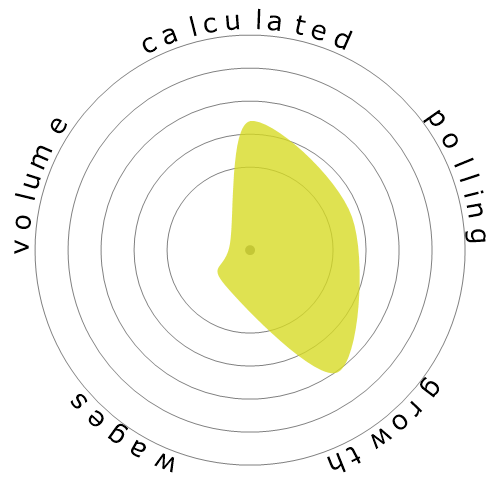 JOB SCORE

4.8/10

Want this summary on your site? Embed code:
Automation risk
Moderate Risk (41-60%): Occupations with a moderate risk of automation usually involve routine tasks but still require some human judgment and interaction.
More information on what this score is, and how it is calculated is available here.
What do you think the risk of automation is?
What is the likelihood that Precision Agriculture Technicians will be replaced by robots or artificial intelligence within the next 20 years?
Growth
The number of 'Agricultural Technicians' job openings is expected to rise 9.7% by 2031
* Data from the Bureau of Labor Statistics for the period between 2021 and 2031
Updated projections are due 09-2023.
Wages
In 2022, the median annual wage for 'Agricultural Technicians' was $41,760, or $20 per hour
'Agricultural Technicians' were paid 9.8% lower than the national median wage, which stood at $46,310
* Data from the Bureau of Labor Statistics
Volume
As of 2022 there were 13,140 people employed as 'Agricultural Technicians' within the United States.
This represents around < 0.001% of the employed workforce across the country
Put another way, around 1 in 11 thousand people are employed as 'Agricultural Technicians'.
Job description
Apply geospatial technologies, including geographic information systems (GIS) and Global Positioning System (GPS), to agricultural production or management activities, such as pest scouting, site-specific pesticide application, yield mapping, or variable-rate irrigation. May use computers to develop or analyze maps or remote sensing images to compare physical topography with data on soils, fertilizer, pests, or weather.
SOC Code: 19-4012.01
Resources
If you're thinking of starting a new career, or looking to change jobs, we've created a handy job search tool which might just help you land that perfect new role.